​ GCP Progress in Vietnam: a measurement story
In 2018, the Global Coffee Platform announced the implementation of a measurement pilot in Vietnam, using GCP Progress as tool. This pilot assesses how Vietnamese coffee farmers understand and adopt good practices of sustainable coffee production. While 9.800 farmers were surveyed and over 16.000 plots have been identified, we still need time to process the results of this amazing journey into Vietnam's coffee farming. In the meantime, find out how GCP Progress' most ambitious endeavour, so far, was developed.

How did we get there?
As one of the world's biggest coffee producers, Vietnam, has a high demand for measuring sustainable practices' adoption to support the local coffee producing community and change the general mindset to better reach the domestic and abroad markets with high quality products. That is why during 2017 and 2018, GCP and the Vietnam Coffee Coordinating Board's (VCCB) teams worked closely together with the Ministry of Agricultural & Rural Development (MARD) and the Software Provider KIAG to facilitate a software for evaluating the adoption of good practices at farm level. To achieve this objective, both global indicators supporting the Sustainable Progress Framework and Vietnam's assurance system based on its National Sustainability Curriculum (NSC) needed to be aligned. The strong partnership between GCP and the Vietnamese Coffee Platform (VCCB), and particularly the Vietnamese Government led a joint effort to go even further and start a measurement pilot at big scale in Lam Dong Province.

Using a digital tool, the whole pilot helps management bodies to better understand and then improve the sustainable coffee production in Vietnam. It also supports the Government and other funding agencies/NGOs to develop an ID system for coffee sector (as a pilot to implement the Crop Production Law), based on which appropriate interventions can be designed which are taking more fact-based information from adoption results into consideration. Additionally, the use of measurement tools like GCP Progress contributes to encouraging long-term participation of producers in these measurement and data governance processes, as it is expected that they get engaged in providing the data related to their own farm management.
GCP Progress' basic structure
A survey of 56 questions was created to understand three main topics:
Farm Profile. Basic farm information, including GPS based plot information/shapes, water sources & irrigation systems, tree management and more.
Global indicators. Environmental, social & security questions, performance data including income, input usage, production cost and access to finance, among others.
NSC adoption survey. More in-depth questions about the actual farming practices, based on the Vietnamese National Sustainability Curriculum for Coffee.
Andreas Terhaer, GCP's Manager IT & Processes and one of the leaders in this project, acknowledges the challenges within this journey: "setting aside technical issues, let's not forget that this is a multi-stakeholder project, which implies management of requirements, expectations and interests from multiple perspectives across different areas & cultures", but he is also aware of its potential as "with minimal tailoring, GCP Progress can be used in any producing country for evaluating how agricultural practices are being adopted on the ground, based on selected global indicators and NSC specifications." After 13 months of engineering, consulting, software development and testing, GCP Progress' pilot was ready to be launched in 2018. The stakes were high but GCP and its partners were up to this amazing challenge.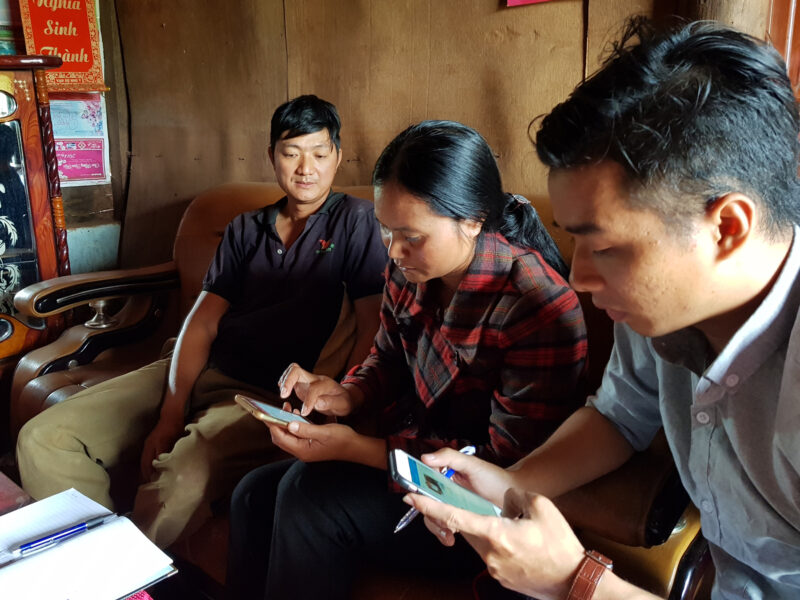 Diving into Di Linh Commune, Lam Dong Province
What was the amount of data collected? Intense training sessions for 200 external data collectors in Di Linh Commune, Lâm Đồng Province provided data collectors with fundamental skills in surveying, NSC farming practice knowledge and the technical usage of GCP Progress. Part of the data collectors' group were lead farmers supporting other producers of their community with self-reporting, empowering them with a practical tool to better understand the current situation of their farm when it comes to coffee sustainability.
In total, more than 9800 farmers have been surveyed, covering all coffee farms in the target area of 5 communes in Di Linh District. The data collection took 9 weeks of constant coaching, management, organization, alignment and data collection in the field. The constant coordination between the Vietnam Coffee Coordination Board (VCCB) & MARD together with local authorities, the Ministry of Crop Production and GCP Vietnam was essential. The results of the pilot measurement are currently being processed.
What has been captured?
About 30.000 people (including young population) have been evaluated for social indicators.
More than 40.000 hectares of production area have been captured, with information gathered about production practices, inputs like fertilizer and pesticides usage and other aspects.
Over 16.000 plots have been identified and mapped including their soil type, topographies, water sources, available irrigation systems and tree management.
The collected plot shapes hold about 10 million plants of coffee and other related crops, either intercropped or side crops.
There is much more relevant information and insights from this measurement pilot which will be shared and discussed with Vietnamese stakeholders in a workshop shortly. If you don't want to miss the summary report, don't forget to subscribe to our newsletter. We will be sharing more exciting news in the upcoming months.
For more information about the National Platform in Vietnam, please contact Caroline Glowka at glowka@globalcoffeeplatform.org or Tran Quynh Chi.