GCP showcases country success to speciality coffee world at Re:co
Carlos Brando, Global Coffee Platform Board Chair, and Veronica Herlina, Executive Director, SCOPI (National Coffee Platform in Indonesia), took part of the Re:co Symposium in Boston, Massachusetts, where experts on specialty coffee gathered to discuss different ways to work together and support the development of a more sustainable coffee sector. During the event, Mr. Brando and Ms. Herlina showcased the advantages of addressing sustainability challenges with a collaborative approach translated into concrete actions at local level.
Both GCP speakers described how GCP Members and Country Platform stakeholders have united in new ways to help improve the economic viability of coffee farming at scale. These include innovative collaborations such as National Coffee Sustainability Curricula, the Country Platform Global Congress and GCP Member Initiatives that unite sustainability champions together in pre-competitive partnerships to amplify investments and achieve more resilient, productive and profitable coffee farming communities. Through these and other activities, Global Coffee Platform members are pioneering a neutral, pre-competitive organization where both private and public sustainability stakeholders are creating a common roadmap and actionable agendas to move our shared, critical sustainability strategies forward faster.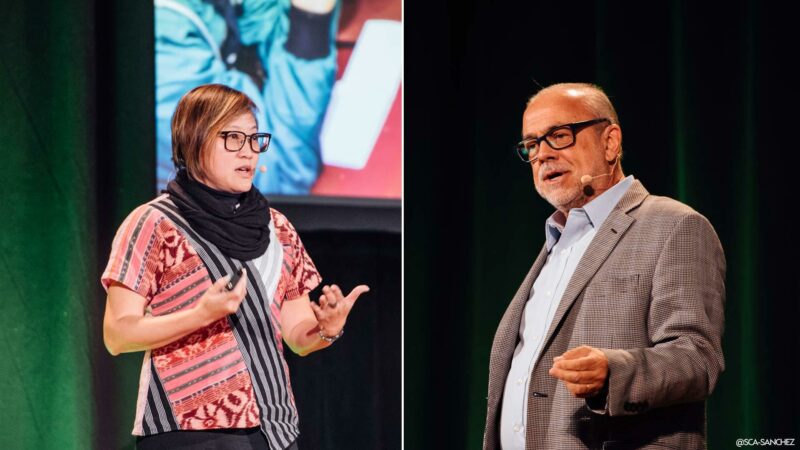 Also contributing contributing their critical viewpoints about Country Platform action via video were Joseph Kimemia (Chair, Kenya Coffee Platform), Emmanuel Iyamulemye Niyibigira (Chair, Uganda Coffee Platform) and Nguyen Do Ahn Tuan (Vice Chair, Vietnamese Coffee Coordination Board).

The Re:co Symposium, (Regarding: coffee) organized by the Specialty Coffee Association, hosted specialty coffee experts from around to world to discuss ways we can work together to support sustainable coffee sector development. At this important setting to engage the audience in the discussion of coffee sustainability, the Global Coffee Platform was honored to take part in the event, describe and show how GCP Members are working together to help ensure the economic viability and future diversity and success of coffee farming throughout the world.
The Global Coffee Platform will continue representing its members in sustainability events during the year, promoting the ongoing critical need to align our efforts globally and contribute collectively to address the current difficult challenges in coffee farming. If you don't want to miss GCP's next participations,subscribe to our newsletter.

You can also participate in current activities in coffee producing countries by contacting Caroline Glowka.