How sustainable is our future? – GCP-ICO Seminar in Kenya
The 124th session of the International Coffee Council (ICO), which started in Nairobi on 25th of March, was kicked-off with a sustainability seminar organized jointly between the ICO International Coffee Organisation, the Global Coffee Platform (GCP) and the Kenyan Government as host country. The event gathered 600+ delegates from over 60 coffee producing and consuming countries and top 'coffeepreneurs' and experts from Africa and ar ound the world.
Three different panels with eminent expert speakers from across the coffee sector discussed current challenges and concrete examples for solutions and actionable recommendations. The first panel focused on African production, consumption and value addition, the second panel addressed the importance of public-private collaboration to increase the economic viability of coffee farming and the third panel discussed the future of coffee production in view of the challenges at hand.
GCP's Chair, Carlos Brando, moderated the second panel which presented different perspectives from National Coffee Platforms and their work in Vietnam – with Nguyen Do Anh Tuan (Vice-Chair, Vietnamese Coffee Coordination Board & Director General of IPSARD); Uganda – ­­with Dr. Emmanuel Iyamulemye Niyibigira (Managing Director, Uganda Coffee Development Authority); and Brazil – with Marcos Antonio Matos – Director General, Conselho dos Exportadores de Café do Brasil and Aguinaldo José de Lima (ABDI Agribusiness Consultant).


The panelists shared their experience on how their work contributes to the sustainability of coffee growing and the economic viability of farming: for Nguyen Do Anh Tuan, the support of the Vietnamese government has been key to implement the activities of the National Platform, the Vietnamese Coffee Coordination Board: The uptake of the National Coffee Sustainability Curriculum has been measured by a first pilot with over 8000 coffee small holders, while the GCP Member Initiative "More Coffee, Less Water" brings investments from public and private side to scale adoption of water saving practices in coffee production. In Uganda, Emmanuel Iyamulemye highlighted the findings of the most recent study on Economic Viability of Coffee Farming, which has provided much needed facts on the investment cases for commercial coffee farming in Uganda, as well as creating awareness of the imperious need to empower farmers and act collectively to increase profitability of small holders. Aguinaldo José de Lima explained Rondônia's case and how GCP Brazil's practical tools such as the Curriculum and measurement app for sustainability revitalized the coffee business in the region, while Marcos Antonio Matos described the benefits of coffee roasters and other collaborating for a common cause in the GCP Member Initiative on the Responsible use of Agrochemicals in Brazil.
Carlos Brando also explained how GCP has developed a methodology to advance sustainability and the economic viability of coffee farming with the help of national platforms, sustainability curricula and specific initiatives that can be made available to all ICO member countries, especially the producer/exporter members, in the framework of the Memorandum of Understanding (MOU) ICO-GCP.
For José Sette, Executive Director of the ICO, this joint seminar contributes to the discussion on "all the important, yet very complex, challenges with which our sector is struggling. The delivered examples of practical solutions and clear recommendations will help us take forward the discussions during this week's meetings of the International Councill. I'm looking forward to advancing our partnership with the Global Coffee Platform, allowing more exporting country members to learn from GCP's work with National Coffee Platforms since this work supports the creation of an enabling environment for sustainable coffee production and coffee growers' livelihoods"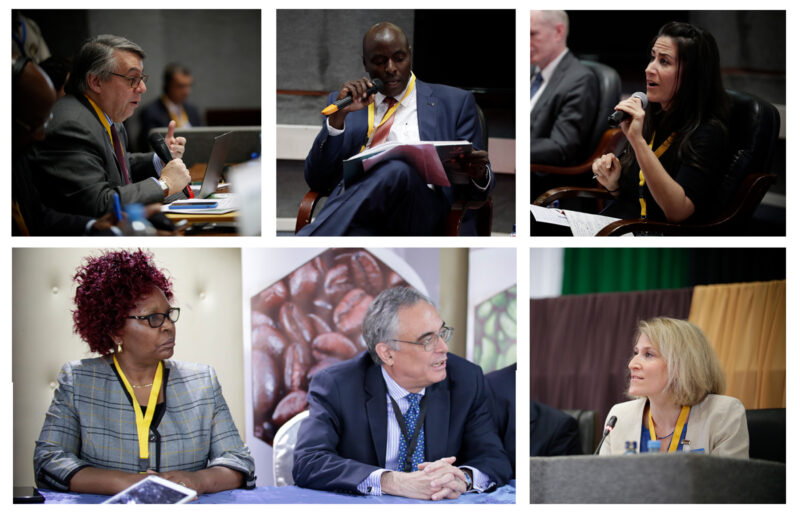 Key conclusions from the Sustainability Seminar
General
Pursuing further dialogue with the coffee industry.
Foster partnerships, public-private collaboration and co-investments, make more use of the platforms that are available at national and global levels.
Explore regional and landscape approaches.
Actions recommended to foster sustainable production
Support growers by promoting optimum productivity, improve profitability and efficiency and provide for an enabling environment through collaboration.
Address climate change, involvement of youth and the gender gap and advance Research & Development.
Actions recommended regarding the market and consuming side
Foster innovation and differentiation, including regarding purchasing practices, price discovery mechanisms, farm to consumer connection.
Foster demand for coffee, especially in emerging markets like India and China, and drive domestic consumption in producing countries.
Incentivize demand for sustainably produced coffee, through regulations in consuming countries to achieve a level playing field (e.g. addressing topics like deforestation, living income).
Contact us and find out how we can collaborate to improve the well-being of farmers in coffee producing countries where the National Platforms currently operate.