Kenya sets aim for improved farmer profitability with launch of Kenya Coffee Sustainability Manual
Collaborative efforts in Kenya have resulted in the launch of the Kenya Coffee Sustainability Manual – a new tool which will help improve farmers' knowledge and ultimately increase coffee production and ensure quality. Learn more about Kenya's progress in ensuring coffee sustainability.

BONN, GERMANY (4 December 2019). While the world coffee price has been volatile, in August 2018 the benchmark price for coffee slipped below one US dollar per pound, its lowest point for 13 years. At the same time, production costs have continued to rise; the true cost of coffee is now carried by farmers who simply don't make enough to survive.
During last week's 7th African Coffee Symposium, the key factors in the transformation of the African coffee value chain was at the forefront of discussion. In this context, the event showcased some of the efforts African coffee stakeholders are putting in to ensure more economic sustainability for the coffee farmer, building on initial studies that were done on the economic viability of coffee farming by the Global Coffee Platform (GCP).
"In the last one year to address the low-price levels, a number of multi-stakeholder actions have been fronted to address the issue," said George Watene, GCP Program Manager Kenya.
In particular, the Kenya Coffee Platform identified the need to harmonize the various training manuals being used by various stakeholders in Kenya to educate farmers. Through collaboration, the platform has developed a standard training material – the Kenya Coffee Sustainability Manual (KCSM) – which is geared towards improving farmers' knowledge with view to increasing coffee production and improve quality.
"Coffee remains an important beverage in the world and Kenya still leads in consistently producing high quality and getting relatively premium prices for the coffee. But the benefits have not been shared with farmers. The challenge now is ensuring that we grow more quality more efficiently and the KCSM is a great step in this direction," said Watene.
The sustainability manual was developed in collaboration with public and private coffee stakeholders – largely experts from the government private service providers and non-government organizations involved in training of farmers - and covers key issues on sustainable coffee production and is used to train additional trainers. In particular, the coordination support provided to the KCP by the Global Coffee Platform is made possible with the commitment and funding of the Deutsche Gesellschaft für Internationale Zusammenarbeit (GIZ) GmbH on behalf of the German Federal Ministry for Economic Cooperation and Development (BMZ).
JOINT ACTION FOR SHARED BENEFITS
In order to improve Kenya's coffee sustainability, focus is being directed at ways to improve efficiency, optimizing the cost of production and promoting domestic consumption. It is hoped that Kenya will continue to enlarge its regional and international market through roasting at origin.
"The Kenya Coffee Sustainability Manual will help ensure harmonized dissemination of Information that farmers need to Improve their productivity and quality while checking their cost of production," explained Watene, adding that the positive position the Kenyan coffee industry was in now – one ready for action – has been a direct result joint efforts.
Watene also highlighted the efforts of farmers' unions, the Kenyan Ministry of Agriculture Livestock and Fisheries, the Council of Governors, the State Department of Cooperatives, coffee traders and marketers, and the support from the German federal ministry of economic cooperation and development and GIZ, As well as sector partnership support by the Dutch Ministry of Foreign Affairs through Rainforest Alliance and Solidaridad among others. Thanks to collaboration, the drive Kenya's coffee industry towards greater sustainability will see benefits shared by all.
The manual Is available to all training service providers for their use in capacity building of the farmers. More than 900 trainers have already been upskilled including, critically, government extension officers and pulping factory managers. Notably, this effort was lauded by government delegates of Ghana and Guinea who committed to following the same process in ensuring harmonized information availability for their coffee farms, using Kenya's manual as a prime example.
And while more needs to be done efficiently and in an aligned manner to ensure all resources and efforts lead to Kenya's goal of producing 100,000mt of coffee by 2022, the response has been positive, and the collaborative efforts of stakeholders and the support of donors has already seen results.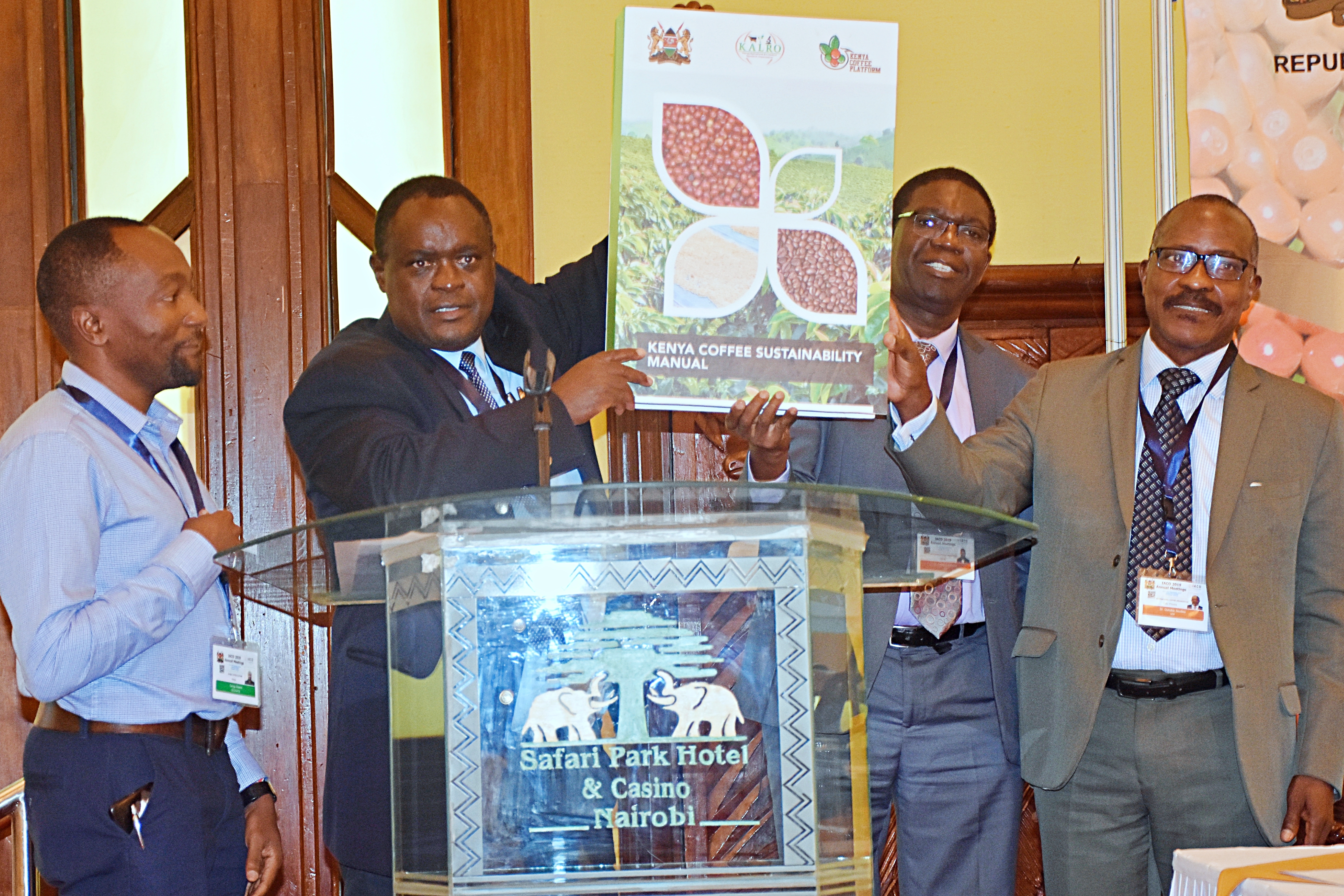 The Global Coffee Platform's George Watene stands with Dr John Irungu, Director Crops, Migriculture livestock and Fisheries, Dr. Fred Kawuma, Secretary General of the Inter Africa Coffee Organisation, Dr Denis Seudieu, Chief Economist of the International coffee Organisation.