GCP and Members Acting Together for tangible results

Highlights from the GCP Mid-Year Member Update 2020
The GCP Mid-Year Member Update saw Members, Country Platforms and GCP Secretariat gather online to celebrate collective hard work, investments, accomplishments and the road ahead, rallying around the fundamental theme of Acting Together!  

"We reminded ourselves of GCP's crucial Call to Action issued one year ago urging Members and fellow coffee sustainability stakeholders to collaboratively combat the persistent coffee price crisis, and to powerfully unite in advancing sustainability," said Mary Petitt, GCP Ambassador North America and the virtual gathering host which focused on the concerted action in four primary areas:
Engaging with international coffee exchanges
Encouraging Roasters and Retailers to increase purchases of sustainable coffees
Activating Stakeholders in Producing Countries
Mobilizing Governments, Donors and Civil Society
WATCH: Annette Pensel, GCP Executive Director, reflects on challenges and achievements over the past year including how the coffee world has been affected by COVID-19. During this recording of the GCP Mid-Year Member Update 2020, we also look at the GCP Call To Action and how Members, country platforms and partners have been able to act local for global results.
Collaboration and Activation
The Update was an opportunity to review key actions taken and those that could be taken over the coming months. Board speakers this year were Marcelo Burity (Nestlé), Juan Esteban Orduz (Colombian Coffee Federation) and Carlos Brando (GCP Board Chairman) and GCP partner speaker was José Sette (ICO).

In addition, speakers from seven Country Platforms shared highlights about how they have worked to answer the GCP Call to Action over the past year, and how they will continue advancing the call locally on the road ahead.  
WATCH: Juan Esteban Orduz, President of the Colombian Coffee Federation and GCP Board Member, discusses the importance of bringing coffee stakeholders to the same table.

Acting together
For Carlos Brando, GCP Board Chair, it was very important to have so many Members attend the GCP Mid-Year Member Update. "We are very grateful for that; we are a membership organization and Members are not only behind everything that we do, but what they contribute plays a key role in what we do with our National Platforms, the curricula, and the Collective Action Initiatives."

He said a key focus for GCP was to help leverage resources that exist in producing countries to drive change. In order to leverage these resources, Brando said, "we need a backbone - a structure that makes things happen. This structure puts us in a very good position to leverage these resources to make the coffee world more sustainable."
Petitt agreed, adding that the energy, commitment and expertise of GCP Members was "fantastic". 
"We are confident that we will achieve our goals because we are helping each other to work smartly and effectively together - specially important during challenging times."
WATCH: Carlos Brando, GCP Board Chair, reflects on the progress made by GCP, Members, Country Platforms and partners to propel coffee sustainability during challenging times. He shares his thoughts with GCP Executive Chair Annette Pensel and discusses why it is a crucial time to Act Together!

WATCH:Jose Sette, Executive Director of ICO, reflects on the close collaboration between ICO and GCP and how this is crucial for coffee sustainability.



Reflection and Reporting
Apart from reflecting on great strides made at national and international levels, the Update also provided an opportunity for the GCP team to share news of exciting projects including the Collective Action Initiatives launching in Vietnam and Brazil, and the release of the GCP Snapshot of Sustainable Coffee Purchases in 2018. The Snapshot - the first of its kind - will showcase efforts being made by committed GCP Member Roasters and Retailers to increase their sustainable coffee purchases.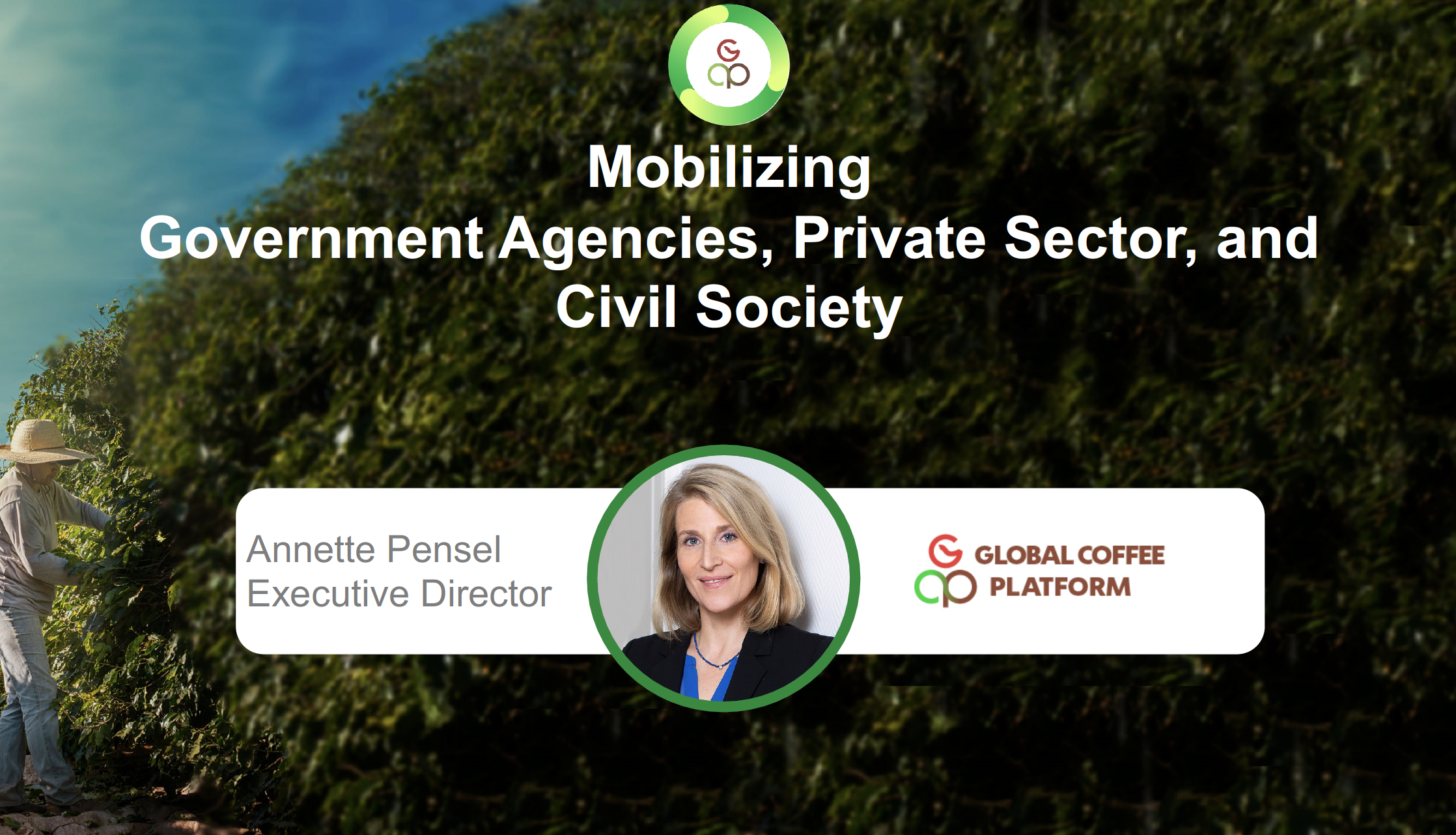 WATCH:GCP Executive Director, Annette Pensel, discusses transparency for sustainability and how roasters and retailers can report their sustainable coffee purchases, progress and achievements. A new SnapShot report on Sustainable Coffee Purchases will be release by GCP in July 2020.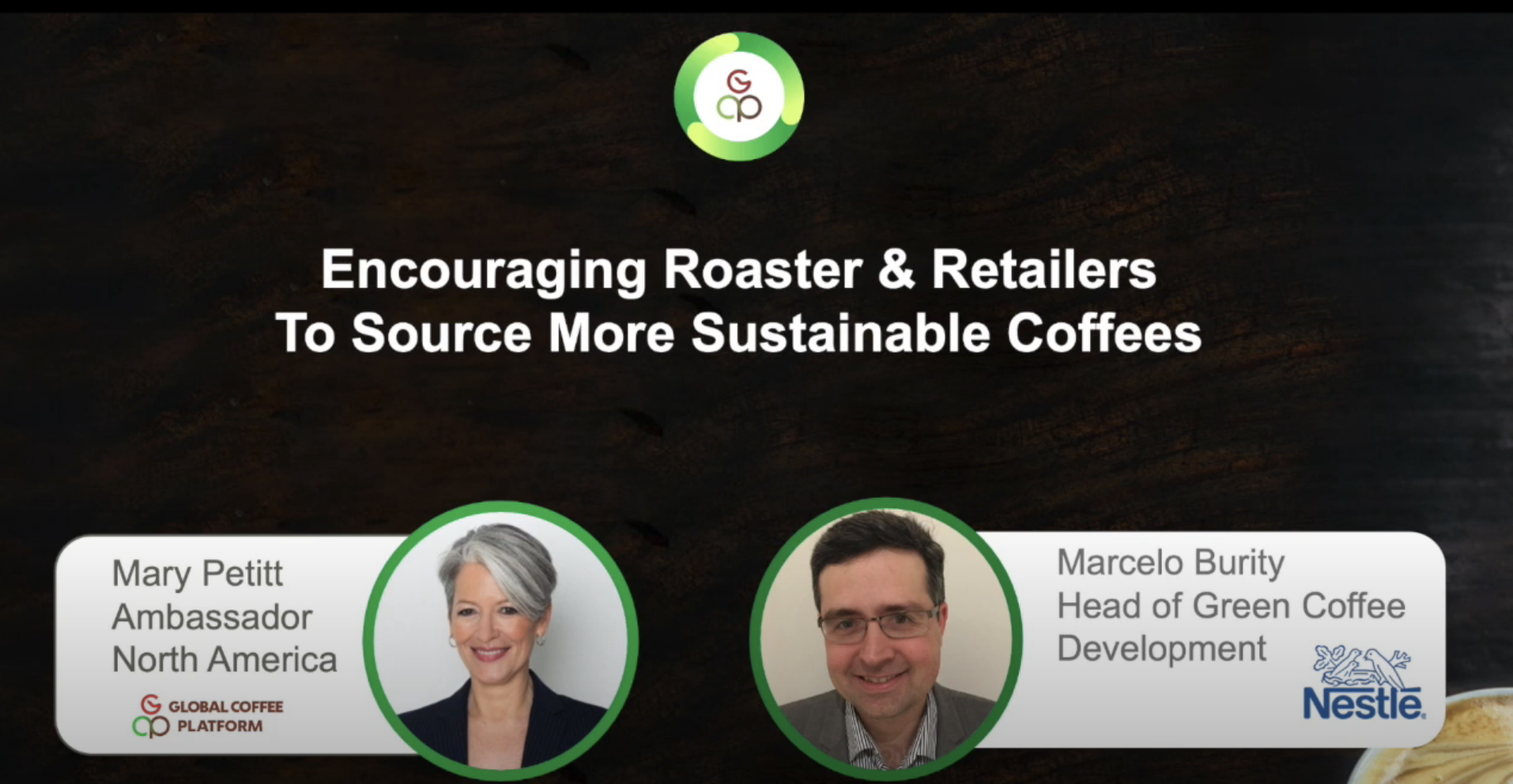 WATCH: GCP's Mary Petitt chats to Nestlé's Marcelo Burity about the GCP's Call to Action and the importance of sustainable coffees.

Take a look at more highlights from the GCP Mid-Year Member Update 2020 by visiting our YouTube page.